I see by your letter this morning you are in for a draft. I feel the same way as you do about it, love, it's got to come sometime and it's best to get it over.
The kiddies are alright. Keith went on Fosse park this morning with Billy and he went to abbey this afternoon. I've had a very busy day washing as I hadn't done any since you came home. I feel rather tired but the children are in bed and now I only have the dinner and tea pots to wash and my day will be finished.
The bee which stung me on Saturday made a good job of it, my hand was quite swollen last night but Mabel pricked it and we got some stuff out of it and the inflammation had gone this morning. It still hurts and I can still get a watery fluid out of it. Still it should be alright.
Keith went to John's party yesterday and had a good time and also ate a good tea. I hope you had your cards alright. I am enclosing the counterfoil for that P.O. this time and also a letter from Bob that went to Weedon and was sent to me by Sid Baker. It had been opened he said by mistake but your name and number are clear enough on it.
He said they would like to hear from you at Weedon. He thought you were well on the way south. I have had all your letters OK. It seemed funny about that ginger lad, but I'm glad you haven't got his hair.
Well love, I guess I'll have to go and wash those pots. Sheila and Keith kiss your picture on the mirror each night.Sheila gave it a big one tonight and knocked it down. I said her love had made you drunk.
Goodnight love and all my love to you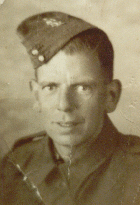 This is the picture which we kissed every night
.
---

There is a story behind the picture. Just after Eric went into the army and left home, a salesman called at the door and offered to take any photograph, enlarge it and frame it all for a price, of course. Olive was sold on the idea and parted with what was then a lot of money. When my dad came home on leave and saw the picture he was angry that she had bought anything at the door and hung it on the wall to remind her never to do so again. As it happens Olive was glad she had the picture as it gave us all a visible link every day with my father. She never cleaned it so it was smudged with all the kisses it had had over the years he was away.

---
BIRTHDAY CARD 1943

---
23rd August 1943 My Dear Eric, Tonight I feel restless. I have had a hard day's washing. I got cross with Keith about his shoes again and have felt wretched since they went to bed. It's now 9.30 and I thought I would go to bed myself then I thought that I would have a game of patience and then at last I decided to write to you and let you know what a moody wife you've got. It won't hurt as I shall be all right by the time you read this.
Did you know love it was our wedding day yesterday. I thought of you but I bet you didn't remember. Let me know. When Sheila had had her sleep this afternoon I said to her "Come in Sheila, see who's downstairs" Her face beamed and she said "Daddy". Poor kid, it was only Mrs.S.
Friday 27th. I had another letter from you on Tuesday. I was very pleased to get it but I shall not be satisfied until I get a cable or letter to say that you are safe and sound. I feel better now. Mother has been with me for two days and nights as dad is away,
I went to the Fosse with Bernice last night. It was very good. Winnie and Anne came to see me and Dolly brought her little girl.We had a jolly good chinwag and a few laughs about old times and they stayed until 7.30. Peggy and Les came about eight so I had quite a busy week but I'd sooner just have you to natter at. Still that day will dawn we hope.
Keith and John went to see Old Mother Riley at the 'Sov' all by theirselves on Monday afternoon. Things are looking up ! I took some material to a Mrs Packett of Ivanhoe Street to have three dresses made for Sheila for the Winter. I bought Keith two shirts as I thought that he could wear them with a pullover with sleeves for the winter and he would be alright then.
Michael has cut another tooth, that makes six. He is getting on alright. He is grand and seems to alter every day. He is a contented baby. Sheila had a doll given her that had been all dressed up for a Christmas tree or something and it had paper petals all fixed in with pins, about ninety all told. She took it to bed one night and not being sleepy she pulled all the paper off and as many pins as she possibly could. Luckily I went to see how they were before dark. She was asleep but I had to wake he up to get all the pins and paper out of the bed. Still as mischievous as ever.
Bobs wife is going to broadcast to him on September 11th. That's his birthday so I hope it comes off all right. I think it is on short wave so I may not be able to hear it.
Saturday. I thought I'd leave this letter open until I had news of you this morning. The postman came but it was a letter from dad. Each night I think and wonder if I shall have a letter in the morning and morning comes and still no letter. I know Eric you must feel as bad if not worse but it doesn't help any. Still perhaps Monday. Goodnight my love. God bless you and bring you safely home.
Your loving wife and family.
---
Dear Eric
I was relieved to get your letter this morning and went up home to let your mother read it as I know she has felt the same as I have through these weeks of waiting. I also dropped a note at Mabels. Well love I hope you were not too bad during the voyage, the news is certainly cheering these days. Keith , Sheila and Michael are keeping well and send you lots of love and kisses especially Sheila. She has been on the table to give them to you in style. They always talk to you but at present they are not eating all their dinner up but it doesn't seem to hurt them.
Michael is putting on weight and he is eating well, he always seems ready. I feel alright today but it has been a worrying time. At first I though I would not worry, just patiently wait but when you love someone well you just cannot help worrying. Still I shall feel better as I suppose the letters are pretty regular. Date them and number them then I shall know if any have gone astray. I wish you would try to write in ink. I think the censor must have inked in my address so that it would reach here safely.
Mr. Quinn has almost lifted all the potatoes and as the weather has been fine I've got them all dried alright. There won't be as many as last year as they are on the small size. He sends his best wishes and Mrs Brown and Mrs. Woodcock send theirs too. I have just been talking to them. Percy Brown is due home anytime. Mabel has been to Mrs. Sutton's the last two Sundays and she has brought a bottle of stout. I still get the weekly one from my Mam.
I wonder if you will meet Ernie out there. I should love a few of those grapes still the kiddies had some oranges last week, Michael liked them as well.
Ernie Chappell is expected home tonight. They are all excited as it's nearly two years. I expect you are finding a difference in the weather out there. I hope it doesn't make you ill at all. I don't suppose you are allowed to say where you are. If you want to write to anyone else I shall have to pass it on if you send a green envelope.
While I'm writing this Keith is almost on the paper and Billy and Sheila are larking about. I am having to finish it down Nora's as Mrs. Keeling called in when I was halfway through so if it's a bit mixed, you will know why.
Well love I'll say goodnight and hope it won't be long before that day dawns, God bless you and keep you safe for us. Your loving wife and family.
---
I received your airmail today. I hope by now you have had a letter from me. I have also had two letters from the boat. I see you have started arguing already with the local lads, still it's the proper thing there. Don't get paying outrageous prices for any thing for me as much as I would love something, I don't want you overcharged.
I met Nurse Spink this morning who asked to be remembered to you and she thought Michael was a beauty, he certainly is growing and trying to talk too. He was all dada yesterday but he doesn't mean you so don't get a swelled head. Sheila gave me a nice big kiss for you, she has got a system when she's kissing. For you it's on my left cheek and my own on the right.
Keith went to the Fosse with Mabel on Saturday to see Laurel and Hardy, but it makes him awkward the next day with losing his sleep, I don't think it is worth it. He has been a good boy just lately.
You didn't mention Albert Silver in your first airmail but Mrs. Silver came and told me on Saturday morning, we were both very thrilled and hope you manage to keep together when you move as it will feel like a touch of home for you. He has been ill, is he alright now? Let me know. I expect you will beat Sheila for colour as long as I don't mistake you for a darkie and the climate doesn't upset you I shan't mind, take care of yourself. Let me know if you need anything, soaps, aspirin or anything like that.
The news is still good, love, so it won't be so very long before we are all together again and the lights go up again.
All at home are well and send their love. Mrs. Gill is in a bad way and is going in to the infirmary within a day or two, it's a cancer after all.
Michael is crying so I'll see what he wants. Well that's Michael all fixed up. I'd better leave the rest until after dinner. Roast potatoes today. I am having the sweep at 6.30 in the morning in both rooms so will be busy for a few days. I feel more like it now I've heard from you.
Well Eric we have finished dinner and Sheila and Michael are asleep so I'm having a cup of tea while I finish this and then start to work. I've only got three rows of potatoes to get up now and I've got them dried and sacked so far. Last night I pulled the dwarf beans up and took the dead and lower leaves off those top cabbages. They are doing well, we shall be having one this week. I am saving some beans for seeds.
Harry L doesn't show any sign of touching the garden so Mr. Saunders has offered to dig it up for me. It's pretty clear now apart from the runner beans, I still manage to get a boiling now and then.
Well love it's almost the end once more. Mrs. Silver showed me some postcards Albert sent from Constantinoble. I expect you are around there somewhere. My cup of tea has gone and the pots are waiting so I'll say goodnight love.
---
I am now sitting having a cup of Ovaltine and the kiddies are sleeping peacefully. Michael gets to be a little darling with his saucy smile and 'dada', he gets hard work as well as he is always on the move. I don't nurse him for long, I can tell you. He has cut another tooth making eight. When he goes to bed now he usually finishes with his pillow on his tummy. Tonight he cried and I went to see what was wrong and he had half turned over and the pillow on his back and he couldn't get back. He was alright after I had given him a bit of love.
Kath has made him a lovely Scottie but Sheila has written her name on it, it's a beauty. Keith likes his new class and teacher. She reads a story about every afternoon and you know that's just down Keith's street. He still has one read at night, not every night as I'm too tired sometimes but he doesn't mind much. He just tells me it's two the next night. He still has his lines and still wears his toes out. He had one pair of new shoes just a week and the sole was through. I took them back but haven't heard anything of them yet, it's the poor leather they are putting on. I look like buying shoes every week during the winter.
Keith fell down and made mess of his knee today but he wouldn't have anything on it as usual. I better mention Sheila now, she is alright and as saucy as ever. She sings 'pass the ammunition' and 'nay, nay, I won't go dancing. She got them off the lads this morning. She was down the garden with Scottie and David was their side of the fence. She was pushing the dog at him and saying 'run, run,run David' and they were laughing like anything. They are often having a chin wag over the garden fence.
She has started saying 'me' instead of 'Sheila' and she was saying 'Thunder doesn't make Sheila jump' and then she must have remembered so she said 'thunder does not make my jump'. Well love, there's your children up to date.
I had the sweep on Tuesday. He came just after half past six. The sitting room is still covered up. I have been doing a bit of it tonight after the kiddies were in bed but it's soon blackout and I haven't got the curtain up so I had to do it in the twilight. Still it will get done and look better for it as I intend to give it a real spring clean.
I received your letter today dated 27/8/43 and was very pleased. I hear you are enjoying the sand and sun but don't get too fed up with it as we shall want to go the seaside when you come home.
I was just reading the letter to your mother this afternoon when the postgirl brought her one but you hadn't dated it.
Oliver called in the other night and looked fit and well. He likes the army life and his feet have been much better. Our Ernie has been wounded in Sicily, we don't know how badly yet. I shall send you some newspapers. The news is grand from Russia as well as Italy. I don't think we shall see another winter of blackouts but I miss you love, nobody knows just how much but I'll try and keep my chin up and you do the same and we'll pull through.
Your loving wife and family
---
I have just got the kiddies off to bed and I should have loved you to have seen them, one on each side of the fireplace with a cup of warm milk while I was reading 'The toy soldier' to them. They seemed to be having colds but I think they are alright now as they have had a powder and warm milk nearly every night this week and have taken it like heroes. I have a cold too but mine didn't come out until yesterday. I was wishing you were here last night to fuss me and bring my hot milk to bed but of course I just had my milk before going to bed.
Mabel came up this morning and dressed Michael and did one or two jobs for me. I felt rotten but I'm better tonight and expect by the time you get this I shall be OK so don't get worrying or I shan't tell you if I'm not well again. I had Michael weighed on Thursday and he is now 18-5 and a fine bonny lad. Sheila was 18-4 three days after nine months and Keith was 18-4 nine days after nine months so you can see he is leading. You will know him when you come home though as everyone says he is like you. He is sitting up on the rug by himself now-a-days and pushes himself along in his buffer and was sitting up in the cot the other morning. when I went to fetch him down.
I went to the pictures with Bernice on Wednesday and Peggy and Les stayed at home. Michael woke at eight thirty and they were busy nursing him when I got home. He hasn't woken since he was poorly either, it's just how they do when you go out for a change.
I told Sheila I was writing to you and asked her what I should say so she said 'eila a naughty girlie' so I said why 'cause me pinched mummy's apple'. She's a real archer at times. I told he to go upstairs and tell Keith to stop banging on the bed. When she came down, he bumped once more and she said 'if you do it again eila will come up and smack your bottom, I shan't tell you again'. What do you say, that's her mother talking.
Well love Mabel has just gone home and it's almost time for bed. I feel a lot better now and expect I shall be OK in the morning so I'll say goodnight love. I'm just going to have a bit of bread and cheese and a cup of Bovril and a couple of Phensic and off to bed.
Well love, Sunday has passed and although I feel better I didn't feel in the mood for writing. I found the kiddies very trying so you know and now it's Monday I'm leaving the washing. Michael and Sheila are asleep and I hope to get this off after dinner. I thought I might get a letter today but no luck. Last night I was dreaming that the postman put a whole bunch through the door.
Mabel and Bernice have now got a cold, there seems plenty of them about.
Sheila rides Keith's bike now standing up on the pedals. I'm going to let Keith send an Airgraph when he can find time to write to you, he was reading one of his books and can manage it quite well. I told Sheila you were going to bring some shells home as Keith had a tin full given to him so she thought it was grand. She said this morning 'eila got a lot of kisses for her daddy when he comes home. When daddy comes home, he is going to stay' Bless her, I expect she misses you and I'm sure Keith and I do. Never mind, love, this war will end I suppose and then we will try and carry out all the good resolutions we have made but I still think I shall have to talk to myself while you've got your head in a book. Time is getting on love. Keith will soon be home from school. All my love and keep yourself safe for us.