These are a small selection of letters Eric wrote to his children, Keith, Sheila and Michael together with some of their replies. A few other letters have been included on the main pages.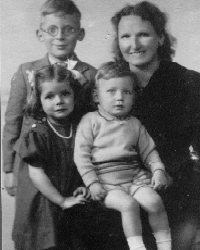 ---
1944
1945
---
Dear Sheila
here is a letter all to yourself from Daddy. I came here i a big ship and had a long ride. I've got lots of kisses for you and keith and Michael and also for mammy.
Do you still ride on Keith's bike. I know you smack his bottom when he won't eat his dinner. Don't forget to kiss daddy's photo and give mammy lots of kisses to send to me. Do you still lock daddy out love. Tell keith daddy will write to him soon.
God bless you darling
Lots of kisses, Daddy XXXXXXXX
---
Dear Keith
Mammy has just told me what a nasty fall you had a week or two ago, I hope it is better by now. Did you have a plaster on.
I had a letter from Billy and have sent him an airgraph so let me know if he likes it.
I've had a Christmas card already from your Grandma and it is very nice. I hope mammy will soon be sending your photo to me which you had taken. It is not so warm here now and I don't wear short trousers like I did in the summer.
I hear what a good lad you have been since I came away and you set the table from granny and Aunt Mabel when they came up to see you all.
Let me know if Sheila liked the birthday card I sent her and how many cards she had.
Give mammy lots of kisses for me also Sheila and Michael and I hope you will all have lots of toys and books from Santa Claus. Do you think he will find me out here ?
God bless you
Your loving daddy XXXXXXXXX
---
Dear Keith
What a lovely letter I've just had from you. You are getting really clever and I can see that you are learning a lot at school. Mummy tells me what a good boy you are. You were lucky getting all those nice things for Christmas.
Can you slide yet in your new boots. Some of the kiddies here do not wear any shoes and stockings so that can't slide. I bet their feet get cold sometimes.
I don't suppose you teeny weeny snowman lasted very long but you would have some fun with it with Sheila. It's a lovely picture you have done for me and I am saving all your letters love.
Tell Sheila to write as nice as you and look after her and Michael for mammy. I bet you are a rascal sometimes and have a lot of fun. Here's a lot of kisses for you all
Lots of love from Daddy
---
Dear Dabby
We have not had any snow yet. I will not forget two pieces for his eyes and one for his mouth.
Sheila can do his mouth nicely. I liked the lemons and oranges. She is always dressing up.
I help mammy as much as I can and be a good boy.
Michael is always looking at the birds. I am always sliding. Sheila is in mischief.
Love from keith
What plants are always in a hurry ? the rushes.
---
Dear Keith
Mammy told me in her letter that you were being a good boy and were getting on well at school. I hear you like poetry and can recite it very nicely.
Send me a little letter soon love and tell me all about school and what you do. I bet you will like the showers when it gets warmer. Where daddy is it is warm already and we do not get much rain. The trees are all coming out in blossom and before long we shall be seeing apples and oranges and nuts on them.
There are lots of lizards running around, like thin frogs with long tails and you would have lots of fun trying to catch them. I expect you are on holiday now, as it is Easter Sunday here and I have been to church tonight. Do you go to Sunday school still, I bet Sheila will be wanting to come with you soon. Do she still smack your bottom when you play about after going to bed? I know she's a young puss, and tell her daddy will write to her soon if she is a good girlie.
Give Mummy, Sheila and baby Michael a big hug and lots of kisses from daddy.
Here they are and some for you as well from your loving daddy x x x x x x x x x x x x x x x
Top of page

---
DEAR SHEILA
WELL SWEETHEART HERE IS YOUR OWN LETTER FROM DADDY AND I BET YOU THINK I AM A FUNNY DADDY WITH SHORT TROUSERS LIKE KEITH WEARS. HERE IS HOW I LOOK WITH THEM ON.
IT'S ALWAYS NICE AND SUNNY HERE AND WE DON';T HAVE TO PUT ON A RAINCOAT WHEN WE GO OUT.
MAMMY TELLS ME YOU CAN SING LOVELY AND ARE BEING A GOOD LITTLE GIRLIE. DID YOU LIKE THE PICTURES WHEN YOU WENT WITH BERNICE. I BET YOU HAVE LOTS OF FUN WITH BABY MICHAEL AND GIVE HIM LOTS OF RIDES ON YOUR ROCKJING HORSE.
MAMMY IS GOING TO SEND ME A PHOTO OF YOU AND KEITH AND MICHAEL SO I CAN SEE WHAT A BIG GIRLIE YOU ARE GETTING SO YOU CAN HELP MAMMY WASH UP AND KEITH CAN GET THE TEA READY. YOU ARE CLEVER AND MAMMY IS PLEASED AS SHE IS TIRED SOMETIMES ISN'T SHE.
GOODNIGHT DARLING AND HERE ARE LOTS OF KISSES. FROM YOUR LOVING DADDY.
---
26th April 1944
Dear Keith
I bet you would like to be here with daddy where it is nice and warm and there are lots of lizards (like frogs) to chase. We go to the cinema three times a week and have lots of concerts. Do you know we don't have the sirens like you do at home and we never see a Jerry aeroplane. It is like being at Long Buckby only much warmer and you should see the grass grow. I bet you would have to cut it every day if you wanted it short like mammy's lawn.
The cows here have long horns like the deer in Bradgate Park and the farmers make them pull the ploughs instead of horses you would laugh to see them.
Did you and Sheila get the picture cards I sent to you. Mammy tells me how you liked the figs. Write me a letter and tell me how you are and if you are better. Fancy getting chicken pox. I bet mammy will get it.
Lots of love daddy.
Top of page
---
July 4th 1944
Dear Keith
mammy tells me what a lovely party you had and how you had the last jelly I sent home. Was it nice, love ?
I hope you had lots of cards and don't forget to keep at least one book nice and clean so I can read you a bedtime story when I come home.
Mammy says you are a real good boy and help her all you can.
How is your garden. Did Michael try to pick all your plants up. Do you have showers at school this year.
Your photos are lovely. Do you like these of your daddyt
Lots of love and kisses
From Daddy
Top of page.
---
July 24th 1944
Dear Sheila
So daddy is your young man eh love and Sheila is daddy's little sweetheart.
Mammy says you wash up lovely and have lots of fun with Colin. How may tarts and cakes did you eat at Keith's party. I bet you made a lot of noise and mammy would say 'For goodness sake be quiet'
Have you seen Bambi on the pictures. I thought it was lovely. Daddy sees lots of Popeye pictures and they make us laugh. Teach Michael all the songs you sing so lovely.
Lots of kisses sweetheart from Daddy
XXXXXX
---

18th August 1944
Dear Keith
Mammy tells me how well you are getting on at school and now you are on holiday I bet you are having lots of fun with Sheila and Michael. I suppose you play all the time with John Saunders and the boy from London and Sheila has to play with Michael. I hear he is a young monkey with the coal dust and when you were younger you were just the same.
Have you started writing a letter to me yet ? Your last letter was lovely and I showed it to the other soldiers and they said it was very good and you must be very clever. Do you have showers at school now. here it is very hot and the sun shines every day. I am very brown and every night I have a shower. There are thousands of flies about and we have a fly swotter to kill them. They tickle our legs as we only wear short trousers like you do.
The boys and girls here do not wear shoes and stockings but they do not seem to mind.
Did you play with Roger Dickenson when he came with his mammy and did Sheila like his little brother ?
Well Keith I must write Sheila a letter or she will be jealous won't she. Give mammy lots of kisses and be a good boy and we will all have a big holiday at the seaside.
Lots of love and kisses from Daddy.
Top of page
---
Dear Keith
Thank you very much love for your nice airgraph. I see that you are getting quite grown up going for rides on Tramcars by yourself. I hope you are not mad about that smack you had when you had done nothing as there must be times when you deserve a smack and do not get it and mammy has all the work to do herself while I am away except of course when you help her, going errands and looking after Michael.
He's a tough guy isn't he ? Yes love, Bambi was grand. It is still very hot here and I wear my short trousers in the day and put my long ones on at night. I bet my knees are as brown as yours are. Has Sheila started school yet.
I am getting plenty of pears and grapes and tomatoes but no oranges just yet. They are about as big as golf balls on the trees and still green. Tell Sheila I will send her an airgraph soon
Lots of love and kisses to you and Mammy, Sheila and Michael.from Daddy
---
Dear Keith
Thank you very much for your nice letter and sums and riddles and drawings. here are the answers to your sums
1+200+12=213
90-60=30
2x9=18
1x2=26+6+12=24
Are the answers right. here are some more for you Keith
112+234, 47-23, 3x4=, 2x5=
Here are tweo easy ones for Sheila
1+1=
2+2=
I am glad you had a good holiday and I expect you are now back at school in your new class. Has Sheila started yet ? We get a lot of grapes and pears here and the sun is very warm.
I had a swim in the sea on Saturday and we had a cinema show on Friday and we sat on form outside and the screen was on a wall in front of us. We had a lemonade for supper and sat and watched the picture 'The Phantom Lady' while we drank it.
The snaps I am sending are for mammy. Will you give them to her for me Keith Do you like them ? I do not thinbk they are as good as the others I sent you. I hope you will see sall the flags in the streets before long. Mammy tells me what a good boy you are helping her by doing her errands and I am very pleased as I know you can be a very good boy when you lie. Give Mammy, Sheial and that young rascal Michael six big kisses each from me and mammy will give you 6 I sent her for you
---
Dear Keith
I have just heard from mammy you have had my letter with the sums on and now you are now in Standard 1a I expect you can do them. Send me some more to answer. were my answers right ?
I hear that you had some good times at John's but don't forget to always come straight home from school so mammy knows where you are. We don't want her to worry, Keith, do we as mammy has such a lot to do by herself till I come home again.
Guess what I saw on the road on Sunday, a big two wheeled cart drawn by three donkeys and behind walked two big camels and a baby one just like Bambi only these were camels not deer. I expect they belonged to a circus.
it has rained a lot lately but we are still wearing shorts like you do. There are lots of apples and nuts here and the oranges are as big as tennis balls but are still green and not ripe enough to eat yet.
I see you have a nature book and hope you are keeping it nice and tidy to show me when I come home.
Be a good boy and help mammy all you can won't you.
Lots of love, Daddy XXXXXXX
3rd October 1944
Hello Sheila
Hello sweetheart. here is a letter all to yourself from daddy but you can let Michael have a look at it if you like as daddy has not sent him one this time. Are you still a saucy little puss love ? Here is a drawing of what Daddy saw on Sunday. Keith will tell you what it is
It's a funny looking thing but daddy cannot draw for toffee. I think Keith will show you a real one in one of his picture books. There are no bunny rabbits here but if I see a nice dolly in a shop I will ask if I can buy it and send it home to my little girlie
I hope you are still helping mammyand look after michael for her. He's a young rascal I bet with the coal. Goodnight love, lots of love and kisses from daddy XXXXXX Some for Michael XXXXXXX
---
Dear Keith
I have today had an airmail from mammy which she posted on Thursday and so you see it only took three days to reach me this afternoon.
I hear what a nice model you have made of Holland and I hope you can keep it to show me when I get home. Mammy is sending your big letter to me with her photograph and I will let you know when it arrives.
I am glad you like school so well you must have a good teacher. I show your letters to all the people I work with and they all say how good they are.
We have lots of apples and pears lately and also walnuts. It is not so hot now and we do not wear our short trousers as we would be too cold. It has rained a lot and you would love to splash in the big puddles I bet.
Have you been to the pictures lately. We go twice each week. There is a circus not far away and I shall and I will perhaps go and see it on Monday night. Do you remember when mammy and I took you to see the circus and they were full and we couldn't get in.
Tell Sheila daddy will send her a letter in a day or two and don't forget love to help mammy all you can. Do you like the new lights?
Lots of love daddy xxxxxxx
---
26th October 1944 From Keith

Dear DaDDY
This is the letter wHen you saib the morning october 26. I like to send letteRs. Mammy is tireD. Mammy Has Got her BirthDay karD. I am having a holibay on thursDay. love from keitH.
DaDDy xxxxxxx
Top of page
---
26th November 1944
Dear Sheila
Tell mummy her photo is lovely. I expect it will be your birthday when you get this letter from Daddy and I hope you will have lots of presents and the sun shines all day for you. If you have a party mind you don't eat too many cakes and make yourself a sick little girlie.
Fancy 4 years old! I know you can help Mummy and have lots of fun with Michael. He's a tough little rascal isn't he. Do you all still eat all your dinners up because I will want to see you ever so big and strong when I get home and I eat all my food up so I can run around and play with you.
Have you told Father Christmas what you want in your stocking. Tell Mummy or Keith to write and tell me all the toys you get. I wonder if father Christmas will put anything in my stocking, I think I will hang it up and you write to him and tell him Daddy would like something if he has anything left and I will let you know what he puts in my stocking.
Goodnight sweetheart, lots of kisses, from Daddy.
Top of page
---
30th May 1945
Dear Sheila
Hello sweetheart. How do you like the warmer weather mammy says you are having. Mammy says she is having Keith's bike mended for you and you will soon be riding saround the square. Did you like the nuts Daddy sent you and keith and Michael. Michael must be a big lad to be able to jump off the box.
the sun is very warm where Daddy is and soon daddy will wear short trousers again just like the photo which makes Daddy look like a big boy with brown knees. Will you tell Keith Daddy is sending him a letter with a lot of sums on it. here is a little sum for you. Tell mammy the answers 1+1=, 2+2=
I hope you are giving daddy's photo over the air raid shelt lots of really juicy kisses. save obe really big one for when Daddy comes home.
Lots of love and kisses, Daddy XXXXXXXX