Home
Olive and Eric lived in the West End of Leicester between Groby Road and Anstey Lane. This was on an estate of houses built in the early 1930's by a local builder Sherrifs. The house was originally bought by my Uncle Alf and his wife Nora but the thirties were difficult times and they had difficulty with the mortgage and Olive and Eric bought the house from them. They paid about £400 ! It was sold after Eric's death for about £30,000 In the recent photographs above the house has been much altered with a new porch, brick wall and new windows. We didn't have a burglar alarm as there wasn't much worth stealing.
My bedroom was on the top left.
---
The biggest department store in Leicester now sadly demolished apart from the tower which was one of the city's landmarks. Replaced by chrome and glass monstrosity
Aunt Ethel worked here at one time. Like most of the female staff she had to wear very severe black costume. All very 'Are you being Served !)
As children we went into town almost every Saturday, alone and loved running up and down the escalators in Lewis's, using the lifts and browsing in the toy department. Oh yes and getting thrown out. Their broken biscuits were a delicious bargain !
---

Faire Brothers
My father worked for this Company for his whole life. They made all kinds of elastic webbing and their factory was in Rutland Street. During the war they published a magazine to link their employees who were in the forces with the factory and those still at work.
After the war my mother did homework for the firm. Every week brown fibre boxes were delivered full of elastic and suspender fittings. Her job was to thread the elastic onto the suspenders. It was an early introduction to ladies suspenders but I could never understand why anyone would find them erotic.
I know she was paid very little but every little helped in those days.
---
Church in Fosse Road. Although we lived in the parish of St. Leonards, my father prefered St Augustines and it was the 'family'church. We all went to Sunday school there and I eventually sang in the choir. At 16 I rejected religion totally. Most family wedding,christenings,funerals etc took place at this church. It was never a beautiful place being built of red brick and with wild overgrown gardens could be a bit spooky.
The Schoolrooms nearby were the place where all family wedding receptions were held and where I went to Sunday school until I discovered that if I 'bunked off' nobody noticed and I spent a many Sunday afternoons wandering around the city when my parents thought I was at Sunday School.
In March 2004, a fire destroyed most of the church.Eric would have been very upset to know this happened as he was very attached to the place.
---
Fosse Cinema

Lovely cinema in Fosse Road. Far superior to the two other locals, the Tudor and the Sovereign. It had a proper balcony with a waiting lounge, beautiful curtains with constantly changing coloured lights across the screen and a thirties decor.
My Aunt Nora worked as a cashier and usherette. Had a good fish and chip shop opposite. Still in use for bingo.
2004. I am told the cinema has now disappeared and is now a Tesco store. Pity as the inside was a beautiful building and should have been preserved.
---
Sovereign Cinema

Small cinema in Woodgate. Very popular and always full. Films tended to be a bit scratched when they finally arrived here after ending their sun at the 'up town' posh cinemas.but the audience did not seem to mind. The cheapest seats at the front either gave you a neck ache or if you sat at the side, everyone on the screen had elongated heads. I have even seen films here with the reels in the wrong order and nobody seemed to mind. Breaks in the film were also common because of the worn nature of the prints.

Mrs. Webb sold tickets and later served Ice Creams and Kiaroa orange squash. As she was a neighbour she would sometimes let us in free of charge. With Aunt Norah doing the same at the Fosse, we often got free seats.

The posh part, 'upstair' was not a proper gallery but just rows of seat built over the box office and foyer underneath.

The manager wore evening dress and came round before the performance spraying the air with a perfumed (or antiseptic ?) spray.

Was served by two fish and chip shops which were an essential part of an evening out.
Converted into shops and a warehouse eventually but the building is still there.
---
Back to top of page
---
Tudor Cinema

Long narrow cinema off Tudor Road which was unique in not issuing tickets but metal tokens to show the usherettes which seats you had paid for. Had a very popular childrens matinee on Saturdays which my mother considered a bit rough, but I still went. Eventually it closed and became a warehouse.

---
The Blackbird

Large modern pub with a beer garden on Blackbird Road. Considered a little more upmarket compared with the Robin and other pubs in Woodgate. I always thought it totally lacked any atmosphere and was as exciting as a doctors waiting room
---
The Robin Hood

Rather down market pub in Woodgate. I can still smell the beer and smoke fumes which came out of the open windows and which overwhelmed passers by. It always seemed though, in contrast to the Blackbird, an 'interesting' place
---
Alderman Richard Hallan School

A very modern school for the times which I went to. Built on a hill with a long drive running up to it. Terrible to get up to first thing in the morning but great to run down on the way home.
Had huge sports fields which were later taken away and used to build houses in less enlightened times. Had seperate Infants and Junior departments
---
Back to top of page
---
Abbey Park

Very large and impressive park in the centre of the city with the river Soar running through the middle and containing the ruins of Leicester Abbey one time home of Cardinal Wolsley.

Had a large childrens play area, a boating lake and two pavilions plus a bandstand. It was a short walk from where we lived and we visited it on a regular basis.

A fine example of the attitude of the City Councils of the prewar period who had a pride in the city unlike the post war generation who pulled it's heart out.On my last visit, the signs of cost cutting were very apparent with poor flower displays and a general feel of a lack of TLC
---
Fosse Park

Very plain park on Fosse Road with swings which were usually broken. Considered a bit rough by my mother. We just thought it was dull.
---
Mrs Hill's

Green grocers on Groby Road. Grew a lot of her stock in greenhouses out the back. Her tomatoes, I can still taste.

---
Co-op

Modern store at the bottom of Groby Road. Two long counters where staff packed bulk stuff into smaller blue packet, cut cheeses, sliced butter and bacon. Lovely smell. My mother used it a lot to get her 'dividend' I knew the dividend number better than my own name. Had a seperate butcher's shop next door.

Olive was always complaining about it but never stopped using it.

After the war was one of the first stores in the city to become self service.
---
Back to top of page
---
Tires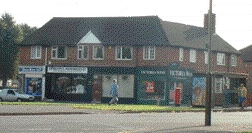 Green grocer at top of Buckminster Road. My mother never liked this shop for some reason although the son, Brian, was in my class at school. I often went there to fetch vinegar for my mother which was poured out of a large barrel into a bottle. It was part of a small group of shops including one where we could buy crusty cobs and Tizer. The photograph shows the shops as they are today. Tires was the second shop from the right
---
County Dairy

Grocers at the bottom of Groby Road. Had a sweet shop next door which was far more interesting especially when they actually had some sweets to sell.
---
Royal Infirmary

Hospital where my mum was a regular visitor for treatment for her leg and arm. I hated going with her as the place frightened me. I still have a basic fear of hospitals and hate the smell.
---
Groby Road Hospital

Used as a TB isolation Hospital until TB became a thing of the past. Also had an assylum at the back and groups of inmates with their funny ways out for walks with their nurses were a familiar sight.
---
Back to top of page
---
Bradgate Park
Lovely park outside the city and one time home of Lady Jane Grey who was beheaded by Henry the Eighth. Has deer roaming around, rocks to climb, water to splash in. Buses went from Saint Margarets bus station and were always so full at weekend it was sometimes difficult to get there. Dominated by a strange ruin called 'Old John' which stands on top of a hill and looks like an upturned beer mug.
Even since leaving Leicester, I have occasionally visited the top of 'Old John' when I wanted peace and quiet to think over something important. A place I would also like my ashes scattered when I depart this life.
---
Back to top of page
---
Gilroes

Cemetary on Groby Road. We often visited on Sundays as a family to put flowers on the graves of grandad Mason and others. I never saw this as a cheerless outing as the place was very attractive. Olive and Eric's ashes were scattered here.
---
Groby Pool

Artificial lake near village of Groby. Often iced over in the winter and used for skating.Popular Sunday outing during the summer.
---
Coalville

Small coal mining town where my Aunt Aggie lived with her husband Ernie. despite the presence of mining she lived to be over 100 years old.

---
Clock Tower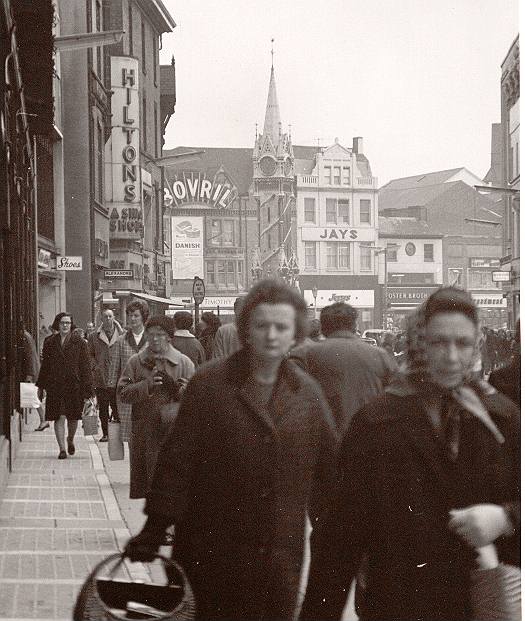 Symbol of the City. A tall tower with a four sided clock in the very centre of the city.
---
Highfields

Home for my Grandmother and father and their family. It was a poor area even then and continues to this day to be despite huge clearances of old property including my Grandad's shop. Suffered bombing raid in 1940. Home to first black arrivals in the city and later Asians from East Africa. Today very much home to families whose origins are in East Africa.
---
The Pool

Short name for Newfoundpool, an estate of houses built off the Fosse road. These were on the whole larger terrace and Villa type houses and superior to those in the nearby Tudor Road area. My fathers family lived here at the top end near Ingle Street School and my father's sister, Norah, lived in Oban street after her marriage. My cousin Peggy also lived here after her marriage to Les and after the war our neighbours, the Woodcocks, moved to the Pool to open a bread and cake shop.
---
Back to top of page
---
Theatre Royal

Theatre in the Town Hall square. Demolished post war to make way for a building society office. An act of vandalism of which Leicester's developers were allowed far too many.

---

Floral Hall

Pretty rough cinema in same block as the Palace variety theatre. Located in Belgrave gate.

---

The Palace

A variety theatre in Belgrave gate. Demolished after the war after ending up showing nothing but cheap 'revues'mainly consisting of scantilly dressed girls.

I remember seeing people such as Harry Seccombe here doing his 'shaving' act
---

Odeon

Very modern cinema in Rutland Street with art deco styling. Gained some fame post war as the place Leicester's best know playright, Joe Orton was first seduced. Now sadly rotting away and boarded up.
---

Gaumont (The City)

Large cinema in the Market area. Not as grand inside as the Odeon or the Savoy but popular. Often allowed films such as The Sound of Music to run for long periods ulike today when even first class films disappear after a few weeks.
---

Picture House

Strange long, thin cinema in Granby Street. Had problems after the war when Cinemascope came in as there was not enough width for a proper Wide screen
---
Back to top of page
---
Savoy

One of Leicester's finest cinemas and one I always enjoyed visiting. There was an organ which came up from the floor although during the war it was rarely if ever used. The decor was wonderful.

Destroying these cinemas was an act of vandalism even though much of the structure probably survives under the multiscreen conversion jobs.

On a recent visit to the city I was sad to see it boarded up. Another example of a city detroying it's heritage.
---

Opera House

Leicester's finest theatre again destroyed after the war in another act of vandalism.An annual visit to the pantomime here was a must for most families even if it mostly mean't a wooden bench seat in the 'gods'.
---

Frears and Black

Bakery in Abbey Lane.Always a great smell of baking bread. Our bread was delivered by their roundsman every day together with cakes although my mother turned her nose up at 'shop bought' cakes and pastries. Famous for it's 'topsy' sliced bread. Olive considered it's products superior to those from the Co-op !
---

Central Station

The LNER station for London Marylebone. An impressive station but always considered second best to the Midland rival. Remains of Roman mosaic in basement under the station always fascinated me as did the nearby Roman Forum. During the night with my bedroom window opened (winter and summer) I could here the whistles of the trains as they sped through the night.
---
Back to top of page
---

Belgrave Road Station

The Great Northern station used mostly for excursion trains to Mablethorpe and Skegness. These used the oldest carriages around and were always packed. The trains were very popular but very slow and sooty. Now totally gone with all trace removed.
---

Midland Station

In London Road and the main station for the city with services to the North and South. At the back of the station was Swain street bridge and Birdcage walk where we went to spot trains. My parents always pointed out the old workhouse building near the bridge as some kind of warning. It was on the Midland station while meeting my sister off the London train that I heard of the death of John Kennedy
---

St. Margarets Bus Station

Very modern, for the times, bus station using concrete as it's main constructional material. We mainly used it to catch buses to Bradgate park.
Sadly now demolished and a modern bus station stands in it's place with little character
---
Leicester Mercury and Leicester Evening Mail
Two local newspaper. The Mercury was considered more 'middle class' and the Mail a bit 'downmarket' Olive and Eric had the 'Mercury' but many relatives prefered the Mail. After the war I had a job delivering these papers and the Mail always annoyed me because the very black ink made my hands filthy.
---

The Chip shops

For us as kids, the chip shops were the McDonalds of the day. We were lucky we had lots and knew the differences between them.
The first was Dunton Street. Their chips were greasy and pretty yucky but they gave a good portion . Woogate was busy and often had a queue, a fact which benefitted Dunton Street. Their chips were OK and they served fritters and scratchings.(bits of fried batter which had fallen off the fish)
The best quality shop was in Fosse Road opposite the Fosse cinema but if usually had a queue and this benefitted two shops in Tudor Road. The first near the Fosse Road junction was pretty bad and had few customers for their soggy offering. The one half way along was better and OK if you had been to the Tudor cinema, but a bit far to walk otherwise. We never bought fish, it was too expensive, but sometimes my mum would splash out.
Pies were not sold until the fifties when 'Fleur de Lys' steak and kidney pies becane popular.

---
Switherland was a wooded area to the west of the city close by Bradgate. There was a popular camp there with wooden chalet type holiday homes where people from leicester could go for a break. Facilities were primitive but at the time a few days spent here was a real adventure. The thought of going abroad had never even entered anyone's head !
---

Glenfield Tunnel

Glenfield tunnel was once the longest railway tunnel in the UK. It was close to where we lived and we loved climbing down onto the single track railway and waiting for the ancient old engine which pulled a long line of coal trucks up and down the line several times a day. I still have a little of that railway embeded in my knee. I fell over on the track one day cutting my knee open and when it healed some of the cinders was trapped under the skin and to this day still causes a small red patch.

The railway itself was one of the first to open in Britain and brought coal from the Swannington area down into the city. Since it's closure, the track bed had all but disappeared covered by Wimpy type houses. The Tunnel is, I understand boarded up, but still there.
---